The Ballarat Courier, Alex Ford
7 August 2021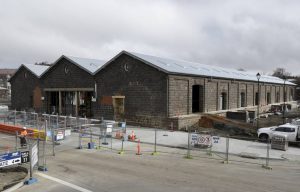 Despite setbacks, redesigns, and a  pandemic, when the Goods Shed opens its first half in October, it'll be a sight to behold.

Split in two, the heritage-listed building at the Ballarat train station will hopefully open the conference space first -this will include two separate function and meeting spaces and a 300-seat theatrette, its own bar, and full kitchen amenities.
The two spaces will feature different decor, with one able to be split into smaller spaces, and the other a larger hall with room for hundreds of diners.
There will also be access to the rear court outdoors, where Robbie Rowlands' 'Slow Order' sculpture has been installed.
The artwork is made from recycled metal rails, and is a striking feature on the Lydiard Street side, where when the landscaping is complete, it's hoped markets and other outdoor events will take place. The interior design showcases the original bluestone walls, timber trusses, and the archway doors, all of which are highlights, according to Pellicano Group managing director Nando Pellicano.
"Throughout the site we'll have some signage about the heritage of the site, and it's amazing to think of what it used to be," he said.
"It's been challenging at times, there's a lot of moving parts, then you throw COVID in the middle, but fortunately construction-wise they've been able to keep pushing through.
"From when we started with (the state government's) Regional Development Victoria in 2016, to where it is now, it's been a huge transformation."
The second half of the building is expected to open in February – this will be fully open to the public, with restaurants and other hospitality offerings.
Negotiations are almost finalised with Invermay's prize-winning Dollar Bill Brewing and Melbourne's Little Lon gin distillery to open in the building.
New operator Atlantic Group, announced last week, will open a restaurant and dumpling pick-up-and-go store, while also running the function centre.
Atlantic's chief executive Hatem Saleh said he had some experiencing reinvigorating heritage sheds, with successful operations at Melbourne's South Wharf.
"We're excited, this is our first regional venture," he said.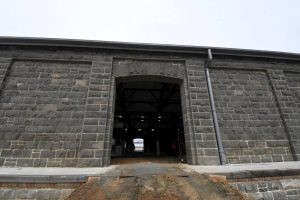 The heritage archway doors have been retained.
"For us, it's really important the people of Ballarat are proud of coming off at the station with their friends, or going to work every day, or for tourists that visit, they're very proud that the first thing they see when they come off the train is the station."
The Goods Shed is one of the final parts of the massive Ballarat station precinct upgrade, with a new commuter car park and Quest hotel already complete, and a new public plaza on the way.
Separately, a new local bus interchange, with traffic lights at Nolan Street, will be installed, while works are under way to reopen Lydiard Street with temporary boom gates by October.
By then, hopefully, some restrictions will have eased, which means in-person conferences and functions could be back on.
Mr Saleh said he was taking the pandemic in his stride.
"Until we get to a point where people can venture out again comfortably, it's a good stage for us to be building and creating the brand, introducing the space to people – albeit slower than we would have liked – but from a foundation point of view, it gives us a chance to really establish the space," he said.
"It's a heritage building, so we want to make sure when people come it feels like it's been there for a long time, and that includes the operations as well.
"The slow burn is okay because it allows us to build the foundations for the long term."
Mr Pellicano said he was glad he approached Mr Saleh, after former operator Spotless dropped out.
"When we set out to do this job, we really wanted it to become a strong precinct for Ballarat, it was a beautiful shed that obviously hadn't been used for a while, the cars just used to park all around it, it was a bit of a shambles," he said.
"We wouldn't be able to do it without the state government tipping in the money they did as well, we really appreciate that.
"We think the people of Ballarat will be proud of having something like this in their city."
See article at: https://www.thecourier.com.au/story/7374017/your-first-look-inside-the-new-goods-shed-as-construction-continues/?src=rss