The Courier Mail, Thursday 5 March 2020
Brayden Heslehurst, Wynnum Herald
The developer responsible for a luxury $37 million townhouse project says his build, alongside the refurbishment of the local shopping centre, will lead the area to become an "iconic Brisbane pocket".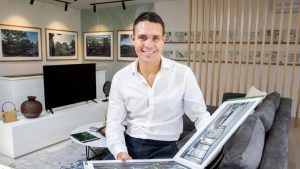 THE start of construction on a new luxury $37 million townhouse community in a bayside suburb is a major step towards the area becoming an "iconic Brisbane pocket", according to the man responsible for the development.
Works have started on Arbor Park, a development from Pellicano and Arcone, this week with the project to include 67 luxury townhouses on the land next to the Wynnum Plaza on Wynnum Rd.
A multimillion-dollar proposal was also recently submitted to the Brisbane City Council for a major redevelopment of the Wynnum Plaza to include retail, food and beverage providers, commercial office a boutique cinema and external dining areas.
Pellicano operations manager Michael Kent said Arbor Park, along with the Plaza rejuvenation, would help make the area an "iconic Brisbane pocket".
"Given Wynnum Plaza is also now set to get a stunning facelift, the area will become an iconic Brisbane pocket, attracting even more to the region," he said.
"Wynum's population continues to thrive, as more of us hunt out lifestyles connected with community, bayside and nature, what Wynnum is so loved for, and no longer need to head to urban areas to find thriving community living areas."
Kent said he was thrilled to announce more than 50 per cent of the townhouses have been sold.
Construction is expected to be complete by mid-2021.
Two-bedroom townhomes start from $479,900, three-bedrooms from $550,000, and four-bedroom from $609,900.
_________________________________________________________________________